You may find interesting
Close
New SEMIX Mobil 60 S4 MOBILNÍ BETONÁRNY 60 m³/h
price on request
New SEMIX Kompakt 30
price on request
New SEMIX Kompakt 100 SEMIX KOMPAKTNÍ BETONÁRNY 100 m³/ h
price on request
New SEMIX Mobil 100 S4 SEMIX MOBILNÍ BETONÁRNY 100 -112 m³/h
price on request
New SEMIX Stacionární 130 SEMIX STACIONÁRNÍ BETONÁRNY 130 m³/ h
price on request
New SEMIX Stacionární 160 STACIONÁRNÍ BETONÁRNY 160 m³/ h
price on request
New SEMIX Mobil 120-135 Y SEMIX MOBILNÍ BETONÁRNY 120-135 m³/h concrete plant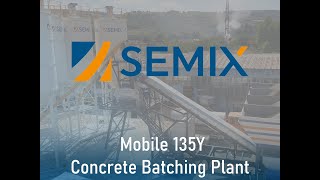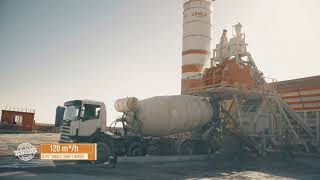 1/14
Model
Mobil 120-135 Y SEMIX MOBILNÍ BETONÁRNY 120-135 m³/h
Location
Hungary
Remote inspection
Request an independent technical inspection
Need delivery?
Calculate the cost of delivery
SEMIX Mobile 120-135Y is equipped with 4500/3000 liters or 5000/3330 capacity Concrete mixers which can be a single shaft (for Mobile 120Y) or twin shaft mixers. In SEMIX Concrete Mixers NiHard4 or Hardox 450 wearings are used according to the Concrete recipe's sillicium ratio.

In SEMIX 120-135Y mobile concrete batching plants "T" type settlement applied in conveyors. Aggregates are weighing in two weighing belts this design reduces the weighing time by %50. The aggregate transfer conveyor located in the middle of two weighing belts.

This mobile concrete batching plant is globally patented by its' design, the aggregate conveyors can be folded inside while transporting.

All SEMIX Aggregate Storage hoppers are bent trapezoidal shape for having an extra strength.

All SEMIX Concrete Batching Plants are being controlled by a SCADA system with a Schneider PLC integrated. Users can follow all used materials and integrate their CRM system. SEMIX's engineering team can intervene in the Automation system online to provide service.
SEMIX Mobil 120 -135Y je vybavena míchačkami betonu o kapacitě 4500/3000 nebo 5000/3330 litrů, které mohou být jednohřídelové (u Mobil 120Y) nebo dvouhřídelové. V mobilních míchačkách betonu SEMIX se používají opotřebení NiHard4 nebo Hardox 450, v závislosti na poměru křemíku vzorce betonu.

Usazení typu "T" v mobilních betonárnách SEMIX 120-135Y, použité na dopravníky. Kamenivo se váží na dvou vážicích pásech, tato konstrukce zkracuje dobu vážení o 50 %. Pásový dopravník kameniva umístěný uprostřed dvou pásů váhy.

Tato mobilní betonárna je celosvětově patentována pro svůj design, dopravníky kameniva lze během přepravy sklopit.

Všechny násypky zásobníků kameniva SEMIX mají lichoběžníkový tvar pro mimořádnou pevnost.

Veškeré betonárny SEMIX jsou řízeny SCADA systémem s integrovaným Schneider PLC. Uživatelé mohou sledovat všechny použité materiály a integrovat systémy CRM. Inženýrský tým SEMIX může za účelem poskytování služeb online zasahovat do automatizačního systému.
Important
This offer is for guidance only. Please request more precise information from the seller.
Safety tips
Seller's contacts
Cantürk Danış
Languages:
English, French, Turkish, German, Arabic
Didar Danış
Languages:
English, French, Turkish, Spanish
Seller's local time: 18:31 (CET)
Selling machinery or vehicles?
You can do it with us!