New ZIM ZIM 1842 ULTIMATE CONCRETE BLOCK MACHINE block making machine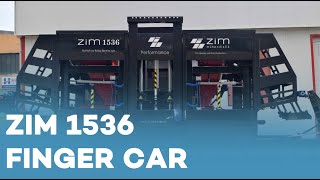 1/12
€1
Gross price, VAT – 18%
Model
ZIM 1842 ULTIMATE CONCRETE BLOCK MACHINE
Type
block making machine
Location
Turkey
Saray Mahallesi 600 Cadde No:01Kahramankazan
ZIM 1842 Concrete Block and Paverstone Making Machine: Is special design machine for block and paverstone production that works fully automatic.The movement of the machine is programmed the PLC microprocessor computer.

By changing moulds all kinds of blocks, paverstones, curbstones, grasstones, lentos and precast concrete elements can be produced in a serial way.
20cm block can be produced 18 units, and interlock can be produced 42 units in one press. Machine is able to produce the insulated block upon demand.

Our company's special production oil bathed vibrator is used. It has 6 engines with total power of 33 kW. Thus, it can produce smoothly and quickly.

We use pneumatic bellows in machine mould connections, due to this system vibration on mould is expanded regular and uniform.

Mortar part of the machine is moving on strong chromium columns. Height regulations also done automaticly but not with manpower.

There is ZIM18 model which is designed with single bunker for customers who want to produce materials as block, hollow block and single layer paverstones.


Pallet Dimensions Pallet with leg: 1400mmx1450mmx50mm
Rack System: 1400mm x 1450mm x 50mm
Mould Usage Area 1300mm x 1350mm
Minimum Product Height 50 mm
Maximum Product Height 300 mm
Pressing Time 17 – 25 seconds
Capacity of Machine Mortar Bunker 2 x 2500 dm³
Working Pressure 80 – 150 bar
Electric System Schneider - Siemens
Totaş Weight* 29.500kg
ألة تصنيع احجار الرصف (انترلوك) وبلوك اسمنتي. هذه الألة تعمل بطريقة أوتوماتيكية بالكامل. وتمت برمجة حركة آلة بواسطة معالج كمبيوتر من نوع PLC.

عن طريق تغيير القوالب يمكن تصنيع جميع أنواع أحجار الأرضيات، البردورة ، البلوك وكتل الاسمنت الجاهزة مثل أرضيات رصف العشب.

يمكن انتاج 18 قطعة من البلوك مقاس 20 سم في ضغطة واحدة، أو يمكن أن تنتج 42 قطعة من الانترلوك. الآلة قادرة على إنتاج البلوك المعزول عند الطلب.

الهزاز المستعمل هو من انتاج خاص من شركتنا , لذا الآلة يمكنها الانتاج بسلاسة وسرعة

الوصلات المستعملة بين القالب والآلة هي اسطوانات تعمل بالضغط الهوائي , وبهذه الطريقة يتم الحصول على انتشار للاهتزاز أكثر اتساقا في القالب

نموذج الآلة ذات المخزن الواحد , زيم 18 , متوفرة أيضا لتصنيع الطوب / أرضيات طبقة واحدة ، بلوكات جوفاء، وبلوكات / أرضيات خاصة.
ZIM1842 Machine de Parquet et Blocs en Béton; est une machine entièrement automatisée.
Les mouvements de la machine sont programmés par un ordinateur de microprocesseur PLC.
Par les moules changeants, les éléments préfabriqués en béton tels que les pavés, bordures, briquettes et pierres de gazon peuvent être produits d'une façon sérielle.
Par la machine, la briquette de 20 centimètres peut être produite en 18 unités et le pavé autobloquant peut être produit en 42 unités dans une presse.
La machine est capable de produire la briquette isolée sur la demande.
Le vibrateur qu'il est produit spécialement par notre entreprise est utilisé.
Dans ce cas, il peut produire sans problèmes et rapidement.
Le cylindre à soufflet pneumatique est utilisé dans les connexions de moule de notre machine.
Dans ce cas, une diffusion de vibration est obtenue plus régulièrement.
Outre le moule et l'impression, les sections de mortier minces et épais sont également déplacées sur les axes de colonnes de chromefort.
Les règlements de hauteur sont faits automatiquement et aucune main-d'œuvre n'est pas utilisée.
Le modèle de ZIM 18 est produit avec le bunker unique pour les clients qui veulent produire le matériel tels que la briquette, le bloc perforé, quelques blocs spéciaux et le pavé en béton avec agrégat unique.
Important
This offer is for guidance only. Please request more precise information from the seller.
Safety tips
Seller's contacts
Taha YALÇIN
Languages:
English, Turkish
Turkey, Saray Mahallesi 600 Cadde No:01Kahramankazan, Ankara
Seller's local time: 13:14 (+03)
Selling machinery or vehicles?
You can do it with us!